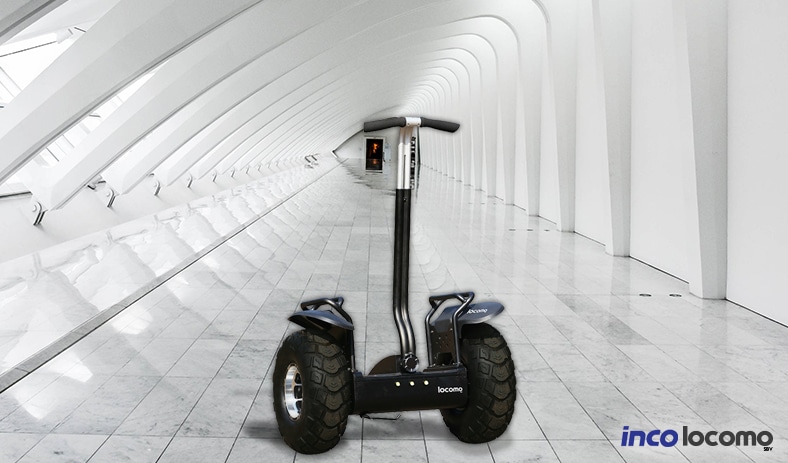 Introduction
The wheel is considered to be one of the most path breaking inventions in the history of mankind. Today, when you look at self-balancing motorized scooters like Locomo, it feels like we're living in the future. They're compact, easy to use and highly maneuverable, and the highly responsive tilt-to-control mechanism would seem like sorcery to somebody from the past!
Features & Advantages
The main components of self-balancing scooters are a gyroscope (to determine the balance), motors (to maintain balance and move the scooter forwards and backwards), microprocessors and batteries. Some of their features are as follows:
Electric scooters are powered by removable batteries, thus, have zero emissions and consequently are eco-friendly. The battery can be fully charged in about 4.5 hours.
The max speed of these self-balancing electric scooters ranges from 10km/h to 15km/h, which is a very safe top speed range for an individual riding on it.
At full charge, these electric scooters cover between 30km to 35km of distance
Your electric scooter can haul anywhere between 110kg to 130kg of weight.
Highly maneuverable. Locomo scooters can turn 360 degrees on their own axis, which makes changing direction incredibly easy even in tight spaces.
Pneumatic air-filled tubeless tires of Locomo self-balancing electric scooters are better at shock absorption, proving their mettle on Indian roads.
You can control the turn, rotation and braking of the electric scooter intuitively with just the handlebar.
An electric scooter moves silently, so it's good to drive around low or no noise zones like schools, hospitals & residential areas.
Compactness in size makes the transportation of these scooters a relatively easy.
These electric scooters are cost effective as compared to the traditional transit modes like golf carts in India and other short distance modes of transport.
An all-alloy sturdy frame of Locomo ensures durability.
Applications
Locomo self-balancing electric scooters are useful in several ways:
MOBILITY AROUND CAMPUSES:

Institutions like college campuses, and hospitals are sprawled over large areas, with considerable distances between buildings. Not that we're discouraging walking, but Locomo allows people to travel quicker between destinations and with less effort, very useful when times of the essence.

INCREASED PRODUCTIVITY AT WORKPLACES AND BETTER PATROLLING:

At places like railway stations, airports, research facilities, warehouses etc. which require constant movement and monitoring and patrolling by security personnel and staff, Locomo offers quick mobility to make transit far more efficient.

SHORT COMMUTING:

These scooters are the best mode of transit for quick & short commuting in Indian estates, parks and neighborhoods where people usually commute short distances for their daily chores.

EASY NEGOTIATION IN TIGHT SPACES:

Electric scooters are ideal machines for negotiating in places with tight cuts and bends, especially since they can pivot 360 degrees on the same spot.
Enter, Locomo!
Locomo is a state-of-the-art two-wheeled SBV sold by Inco Mechel Pvt. Ltd. in India. It enables the rider to control the vehicle's direction & spot rotation using the handlebar. The vehicle moves forward as the rider leans in front & stops when the rider straightens. After judging body posture with an in-built precision gyroscope, the vehicle's electronic brain translates the input through a sophisticated and high-speed central microprocessor actuating the 48V, 12Ah lead acid battery which drives the motor to balance the scooter. In terms of personal mobility, no other type of vehicle offers as much flexibility.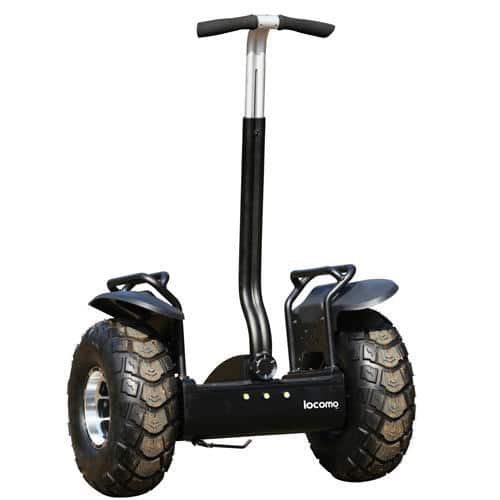 Why Should You Go For Locomo?
Weighing in at 53kg, Locomo stands apart from other self-balancing electric scooters in India in terms of following features:
On a full charge, enjoy a non-stop ride up to 30-35 km, at max speed of 15km/h without any pollution due to zero emissions.
Locomo has a 2D inertia sensor & 2 accompanying accelerometers that allow it to sense the inclination of your body, ensuring an intuitive, responsive movement system.
Its beefed-up wheels with off-road 2X19" Kenda Off-road Tubeless Type Max tires increase strength & stability on many surfaces.
Its 6 well-positioned bright LED lights ensure safe usage even in the dark.
How Much Does Locomo Cost?
Locomo starts at INR 84,000/- plus taxes. We also include warranty of 12 months for motor, battery, controller and motherboard.
If you'd like to learn more or purchase Locomo self-balancing electric vehicles, do to reach out to us at info@inco.in or call us on +91 22 48931804. We'll get right back to you.