INCO MECHEL P. Ltd. pioneered the concept of Family Entertainment Centres with Bowling Alleys in India.
INCO introduced the leisure sport Ten Pin Bowling in India and is the leader in this field. INCO offers services from concept to commissioning and has already set up over 40 centres all over the country.
We offer a wide range of equipment like Ten-pin Bowling Alley, Billiard Tables, Video Games, Kids Play Systems, etc. as part of any FEC related project.
Gaming Zones
We can provision and setup coin operated videogaming zones at FECs. There are a number of manufacturers/content creators in this field, and the number of products available is extremely vast. We help you source the best arcade machines, in the right quantities, after taking into consideration your location, audience, etc. We're aware of the newest machines, and which ones tend to be popular.
Kids Play System
Kids play systems are designed as complete solutions for toddlers, in FRCs or at standalone venues. They offer unique toddlers' play areas that emphasize education and learning, exposing them to age-appropriate activities in a dynamic yet safe environment.
Snow Centers
Recently, INCO has been promoting the concept of Snow Theme Parks and Ice Skating Rinks. INCO has been exclusively appointed by Frigofrance of France to promote their snowmaking machines in India.
Snow Centres can be of various sizes and house multiple types of attractions; they can consist of a simple well insulated room of about 500 sq. ft., with a height of minimum 10 or 12 sq. ft. on one hand, and can be setup as full-fledged 10 acre snow theme parks, which could include a Snow Slide, a Ski Slope, sliding sleds, a Snow Mobile Track & even an Ice Skating rink on the other. You have the freedom to choose the features and size of the snow centre.
You can leverage our experience of 40 years in the Refrigeration industry along with our partners' extensive knowledge and know-how in setting up Snow Centres to build a dazzling snow centre wherever you need.
Paintball Events
Inco organises paintballing events for groups. Paintballing is a sport in which players compete, in teams or individually, to eliminate opponents by hitting them with capsules containing food coloring and gelatin (referred to as paintballs) propelled from a device called a paintball marker.
Paintballs contain non-toxic, biodegradable, water soluble mineral-oils. Paintballing is a fun activity which also promotes teambuilding and bonding. Tactics and strategy are vital to victory in this objective based game as well, making it popular as a corporate activity.
Inco offers assistance ranging from Project consultancy to Turnkey Project execution for setting up a Family Entertainment Centre. For large projects, we work together with internationally reputed Consultants to offer:
Market research
Planning the concept based on local leisure habits.
Architecture & Interiors
Financing
Staffing
Planning, Procurement, Erection of Amusement, A/C & Kitchen equipment
Marketing
Operation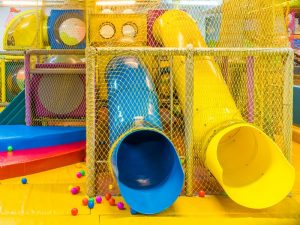 We have provided consultancy and equipment to over 40 FRCs all over India.