If you plan to buy a personal watercraft – commonly referred to by the genericized trademark Jet Ski – here are a few factors that are essential for you to consider, in order to make sure that you select the most suitable Personal Water Craft for your needs.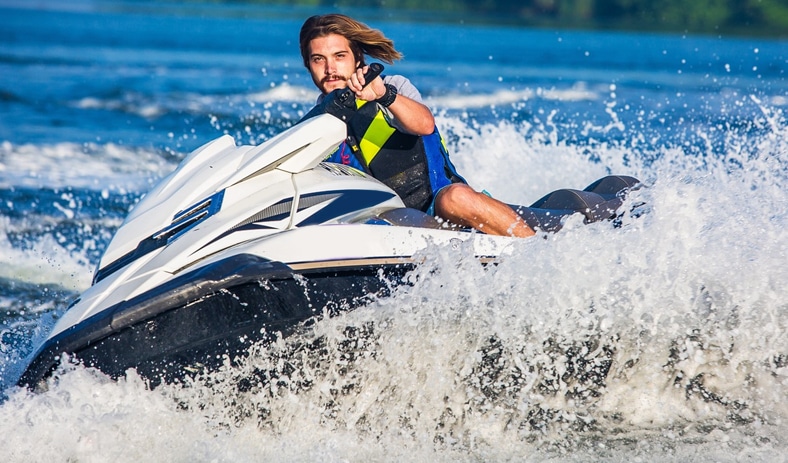 Personal Watercraft Manufacturers
Research shows that the market for PWCs is relatively small, and there are very few manufacturers. There are three primary manufacturers that dominate the market – Bombardier's Sea-Doo, Yamaha's WaveRunner and Kawasaki's Jet Ski. In terms of quality and longevity, these are the three brands we'd advise to look at.
Do you want a sit-down or a stand-up PWC?
The lion's share of the market lies with sit-down PWCs. Yes, it's definitely more fun if you have someone to go jet skiing with. Consequently, that means you need to buy a larger watercraft, like something from Yamaha's FX series, or two small crafts, like something from Sea-Doo's GTS line. At that point, price comes into play and you can expect to pay around Rs. Rs.900,000/-.
Stand-up PWC are far less common, typically you should choose either Yamaha or Kawasaki. Contact us for pricing.
Inland or ocean/sea?
You need to consider where you will be riding – on an inland lake or the ocean or sea. A closed cooling system is of prime importance depending on where you will ride. If your is on open water bodies like oceans or seas,, a closed cooling system is necessary and can help avert potential maintenance issues in the long run rather than one which runs raw cooling water through the engine.
On the other hand, when you get extra features like this, the Jet Ski gets heavier. Added weight makes handling a little difficult and the PWC may seem a little sluggish than a lighter model. Also, if you park it on a beach, it is somewhat difficult to push it back into the water.
Extra features
You may wish to add in some additional comforts and features that manufacturers offer. For example, some come with supercharged engines, so if you're looking for top speed, these may be preferred. For some people, safety systems may be of higher importance, such as Sea-Doo's Intelligent Brake and Reverse system, Kawasaki's Smart Learning Operation feature or Yamaha's Ride system, which lets the driver switch from forward to neutral to reverse with one pull of the throttle. You need to understand each system and see what works best for you.
Some watercrafts also provide 12-volt power outlets to charge your phone while riding; some offer stereo systems and some cruise control. There are a whole host of features that may interest you, we can help you select features that best suit your need.
At Inco Mechel we have a wide selection of boats, jet skis and PWCs – new as well as used. Depending on your requirements and specifications, we will help you find the right product mix, from reliable manufacturers. Our consultants handle the entire sales process from the start to the finish, and will also assist you with the essential paperwork and formalities that are necessary to buy a maritime vessel.