Here's our guide on how to start a bowling alley – it covers all the vital information that will help you decide whether this business is viable for you. Bowling is a great source of entertainment for practically all age groups, especially as a family outing or for a group of friends. People can bowl for fun or in a contest if they are a part of a professional league. Plan your setup well. A couple of topics to consider are your preliminary overheads, your target market, and, most importantly, the duration to break even – after which you derive profit from operations.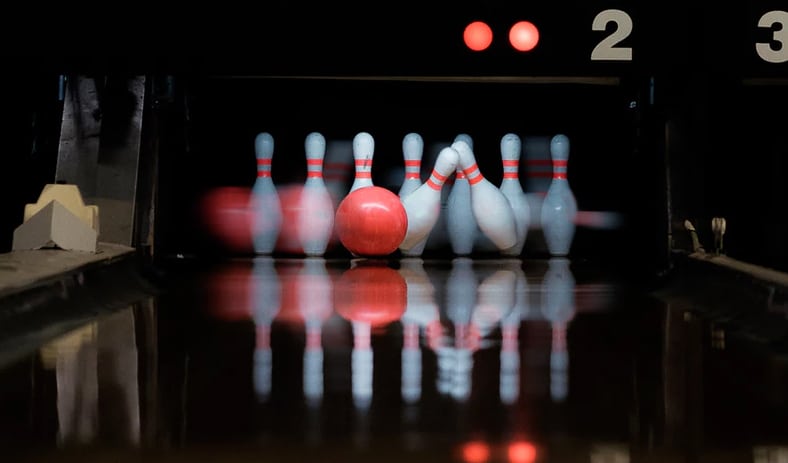 As with most businesses, location is crucial to success. For a bowling alley, a large amount of space is required, for the lanes and equipment alone. If you include supplementary services you need watchful planning and facility management.
Primarily, decide if you want to have an independent bowling alley or if you wish to purchase a franchise. Having an independent bowling alley gives you complete authority and control over marketing decisions, promotions and daily operations. On the other hand, competing with the large marketing budgets of other entertainment facilities can be overwhelming. Some find that purchasing a franchise reduces the degree of marketing that is necessary to succeed but you need to follow their instructions regarding the hours you have to operate, prices to charge and promotions to be done.
Next, you need to settle on a property that you can rent or purchase for your business. Ensure that your bowling alley meets the allowable usage for the property before you sign contracts. Zero in on a property that has ample parking space and is adjacent to theatres, shopping malls, or concert venues.
If you are renovating the place, contract with a bowling alley design and construction group to design your interiors.
Purchase all the equipment for your bowling alley, and have it delivered a couple of months before the expected opening date. Take into account pin loss due to breakage, and order more bowling pins spares than you think you will need. Typically, bowling pins last between 2-3 years and bowling alleys usually rotate two sets of pins for every lane in operation. Place an order for a collection of bowling balls in different weights and finger hole sizes. Be sure to Order lightweight bowling balls for kids – of weight 6-7 pounds.
Consider what other entertainment sources you will be providing – arcade games, bowling accessory shops, pubs or bars and concession stands are common options to include.
Mull over the possibility of serving alcohol at your facility. You must acquire a liquor license for it; serving alcohol has the potential to step-up profits. Obtain all the necessary permits and licenses that are mandatory to run a bowling alley. Not obtaining the compulsory licenses can result in heavy fines.
Hire the staff well in advance before the opening so that you can train your staff in the proper usage of the bowling alley equipment. Special training is necessary for maintenance of bowling alley equipment.
Advertise your grand opening. Send out postcards and mass mailers with a grand opening coupon. Offer discount packages and referral programs.
Make sure you comply with tax regulations.
Have your accounts in order. Keeping a record of the expenses and sources of income is vital to understand your financial performance. Maintaining detailed and correct accounts simplifies annual tax filing.
Insurance is most definitely recommended for business owners.
Label and characterize your brand. It is how your business is apparent to people. A strong brand image helps you stand out from competitors.
In today's aggressive and cut-throat market, you need to offer a niche service missing in your specific area. Understand your potential clientele and what they are looking for in personal and family entertainment. Ensure that your bowling customers know they are top priority; thereafter, offer other services to pull-in crossover clients.
We, at INCO MECHEL Pvt. Ltd. has successfully spearheaded the idea of Family Entertainment Centres with Bowling Alleys in India. We were the first to introduce the Ten Pin Bowling in India and are the leaders in this field. We offer services right from conceptualization to commissioning and have already facilitated 40 centres all over the country. Inco provides a wide array of equipment like Ten-pin Bowling Alley, Billiard Tables, Video Games, Kids Play Systems, and a lot more as part of the FEC-related project.