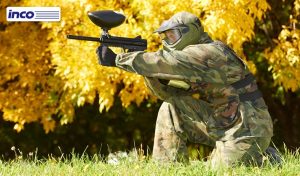 The thrill of hunting is a primal feeling ingrained in humans. Perhaps that's why paintballing is such a popular team game of the modern times, although in a harmless & fun way minus the gore!
Those who could be called 'veterans' of the game can keep going on and on about their tips for paintballing and are generous to give paintball lessons.
All said & done, paintballing is a good activity to bond with friends, family & even strangers, and boost your teamwork and coordination skills.
Today, paintball courses are customizable with diverse outlay of terrain, objective placement, missions, obstacles, covers etc. Even the course difficulty can be altered with different rules.
Every paintball game can have a different format and may require a corresponding paintball gun equipment & gear.
Players should familiarize themselves with the following paintball basics while mulling over how to win at paintball.
How do I get better at paintball?
So, here are the 10 tips to up your paintball game:
Plan: A team should move as per a strategy which revolves around the number of players in the rival team, their area, obstacles, covers, leverage points on the field, own team's abilities, the bulk of ammo you are carrying etc.
Observe: Study the mission brief, make a mental map of the field's terrain, key hiding spots, places to be leveraged as covers, locations which may trap you etc.
Teamwork: It is the hallmark of any team game. You can't win the game playing individually. Even with the best paintball accessories and paintball gun equipment at your disposal, if you don't move together as a team, the opponent will see to it that the game be over for your team quickly.
Communicate: Paintballing is played in a large area. An individual team member can't have a holistic view of the field all by himself. Communication is vital, therefore. Keep talking to your team members while you are creeping, crawling, battling or hiding all around in the area, so that all are aware what is going on in which part of the playing field. If you see a rival player moving towards one of your team members, promptly relay the movement info to the team.
Surprise them: Execute tactics to rile the rival team. Element of surprise should be integral to your every tactic and this will keep you a step ahead of the opponent. Pyrotechnics can be a big savior in tight spots. Use flashbangs to subdue the enemy long enough for you to execute a tactic to gain the upper hand or wiggle out of nasty trap.
Keep cool: When you have captured a good vantage point, pause, notify your team about it and play cool. Don't give yourself away instantly. Survey the area from that location, identify where the rival team members are, how the features of the field can be leveraged.
Judicious use of ammo: Don't fire the paintball pellets indiscriminately, you'll be only wasting them & eventually run out of them. Also, if you are forced to take cover for long during a rough game while your team needs you, then get out of the cover while firing at the rivals. Staying put in the cover will guarantee your elimination.
Bird's eye view: Tunnel vision will doom you. If you focus on just one opponent who seems to be directly in your line of fire, you would risk to miss another opponent who might be flanking you discreetly.
Redeploy quickly: Setbacks are unavoidable & they shouldn't hamper your progress. If you have a man down, quickly move other players around to compensate for it. Learn when to divide and how to redeploy to take out a pesky opponent hiding in a fortification.
Keep moving: Don't stay at a single location for a long time when paintball pellets are buzzing all around. If you stay long at your cover, rival team members would advance upon you to take you out. Keep the offensive going and keep pushing the opponent, especially when he/she ducks behind a cover.
What are the paintballing styles?
After learning the tips above on how to get good at paintball, here is a primer for you about paintballing styles.
'Attack and defend' style is pretty basic. One team is required to protect something akin to a structure or fort, while the opponent team attempts to capture it from them within a fixed time duration.
Next one is the classic 'capture the flag' style. Rival teams play hard to capture one another's flags.
'Total elimination' style is pretty straightforward. Every team tries to eliminate all members of the rival team to win the game.
In some games there are control points or checkpoints in the playing area. Every team plays to capture the most number of checkpoints.
There are paintball games that are mission oriented. Teams are supposed to find props hidden with the playing field, capture checkpoints and keep them under control.
In 'king of the hill' style, two players compete one-on-one to eliminate each other. Winner stays on the field & is challenged by the next player. The game continues till a final winner emerges eventually.
Whatever be the style, one fundamental is common to all of them: fewer the players in the rival team, easier it is to capture the flag/castle/checkpoint. This is what makes the game intense.
Paintball field equipment & clothing
Your paintball field equipment and clothing can improve or mar the chances of your team's winning the game.
You must have the correct paintball equipment starting from the paintball gun, aka the marker. Mechanical paintball markers are suitable for beginners as these guns are sturdier and don't require batteries to run.
After you have gained some insight & experience in paintballing essentials, you can go for an electro-pneumatic gun.
Acquaint yourself with the hopper which one may call the 'magazine' of the gun. It holds several rounds of paintball pellets for you to fire.
It is crucial that the gun feels comfortable in your hands & it should have smooth trigger squeezing action with good maneuverability. Know your gun well & have ample practice in the target range.
What should you wear when paintballing?

Know about your full paintball gear and learn to wear it properly. Your paintball mask is the most visible accessory, second only to the marker, during the game which protects your eyes and face from paintball pellets. During paintball practice, try your buddy's mask to get a feel of your own mask size. Masks with thermal no-fog lenses are good.
Next, you'll need a snuggly fitting chest & neck guard with cool stylish appeal to protect you from physical harm and make the experience more fun. As this is a one-time investment, buy the best paintball accessories.
Long sleeve shirt and long pants would be good in the paintball field. Baggy clothes allow easy movement and also absorb the impact of paintball pellet thereby reducing the chance of welts and bruises. Running boots, head-wrap & fitting gloves would also serve well during the rough game.
Bring spare set of clothes to change after the game.
Renting out the paintball field equipment is a good option for beginners or those who play infrequently. You'd also like to learn of the top 7 things to consider before purchasing paintball gun equipment.
Inco has played a key role in popularizing paintballing in India, and given the fact that even 10-20 people can play at a time, many today actively seek out paintballing venues.
We have tie-ups with the world's biggest paintball equipment manufacturers & we are distributors to the likes of Tipmann, which provides the best guns on the market that are both price-conscious and low-maintenance. We also supply every single type of equipment and support material associated with paintballing all over India.
For more info about buying the paintball equipment, reach out to us at Inco.