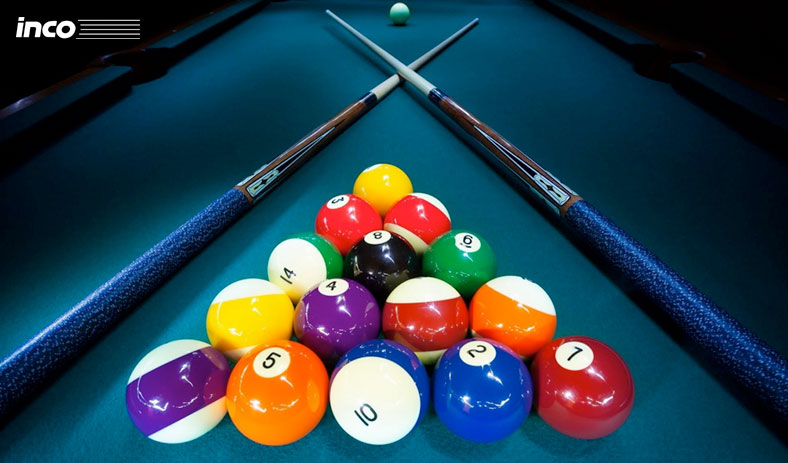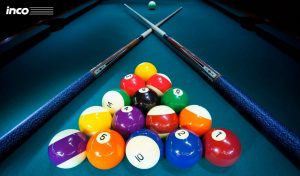 Pool table games like 8-ball and 9-ball are quite well known and millions enjoy these games globally. You may be surprised to know that there are many variations in pool table games, all with different rules and regulations. Some pool table games are easier while the rules of other games may require you to muster all your astuteness to win!
In point based pool table games, certain level of observation and foresight is required to play and win. The difficulty of these games sharpens your mental acuity over time.
Here are five pool table games that you may like to try your hand at in your leisure time. Just set the table, balls, cue & chalk and invite your friends over to begin.
1. American Style 8-Ball:
This is a pretty straightforward game for 2 players or two teams of two players each. There are 16 balls – 7 striped, 7 solid, one 8-ball and one cue ball – used to play this game.
After the break, each player is assigned either the striped or solid-colored balls.
Each player (or team) is required to pocket all the balls of his color group. Lastly, he should sink the 8-ball in a called pocket.
2. Cutthroat Pool:
Cutthroat is a fun game to play with groups of 3 and 5.
After the break, each player claims a group of numbered balls (try to choose the group with least balls pocketed).
For example, if playing with three players, you divide the groups as follows:
• Player X claims group of balls numbered 1 – 5
• Player Y claims group of balls numbered 6 – 10
• Player Z claims group of balls numbered 11 – 15
Then, a player, say X here, tries to pocket his opponents' balls before all of X's own group's get pocketed. If you pocket an opponent's ball, you keep shooting until you scratch or commit a foul.
If all the balls of X's group have been pocketed, X is eliminated. The winner is the last player with any balls of his claimed group remaining on the table.
3. One Pocket:
This is a game for either 2 players or teams of 2 on a pool table.
In this pool game, only two pockets (one for each player) are used to score.
These pockets can only be foot corner pockets (those at the end of the table).
All 15 balls plus the cue are used in this game and are racked in the standard triangle rack.
If player X chooses one of the corner pockets, player Y gets the other pocket on diagonally opposite corner. Any ball which X targets must end up in his pocket only, else Y gets a chance to play and tries pocketing balls in his own corner.
Any object ball you put in your target pocket on a legal shot counts as one point. The aim is to score a total of 8 points before your opponent.
If you hit a non-target pocket (i.e. any pocket other than your assigned corner pocket), the ball is spotted & your opponent is up for his chance.
4. Bank Pool:
One of the many challenging pool table games is Bank Pool. This is a point based game for 2 players or teams of 2. There are 15 balls (1 to 15) in addition to the cue ball.
Rule to earn a point:
Every legally pocketed ball must first cleanly bank off at least one cushion before getting pocketed. Here, 'cleanly banked' means the ball shouldn't touch another ball before entering a pocket.
Also, if you sink another ball after pocketing the object ball, that other ball will not count. Only the object ball is credited as a point for the shooter.
All balls and pockets must be called to count as a legal shot.
You are at foul if you commit an unclean bank or did not call a pocket. In this case, you pay the table a ball. The ball sunk on fowl stroke shall be spotted.
Unsurprisingly, this game requires skill & patience in abundance!
5. Baseball Billiards:
This game is traditionally played with a rack of 21 balls but you can play this game with 15 balls as well.
Each ball counts for its printed numerical face value and all balls should be called in their intended pocket.
Here, each player gets to shoot for 9 innings. An inning is just your run at the balls on the table.
For instance, after the break, you call and pocket the 7-ball and then the 12. If you miss the next shot, that's the end of the inning.
Record your score and then immediately start the next inning. After you shoot for 9 innings, it's the next payer's turn.
You score points in each inning by knocking in as many balls as possible before missing or scratching.
If you have pocketed other balls as well on a successful shot, those balls will add to your points.
However, if you have missed the called shot but pocketed other balls then these balls should be spotted.
Inco sells billiard/snooker tables and some of the best pool tables, including outdoor pool tables, of different shapes and styles, from a range of manufacturers, along with necessary accessories & spares.
Be it tables for personal use, as well as coin operated tables for arcades/pubs/bars/entertainment centers, we got it covered. We also provide maintenance services related to owning pool and billiard tables.
Looking for a pool table supplier? Look no further. We are waiting here to hear from you.